Vista Celestial Guest Activities
ACTIVITIES AT VISTA CELESTIAL
Home to our 2023 Costa Rica Retreat, Vista Celestial is located in the mountains of Southern Costa Rica.  A boutique hotel, Vista Celestial houses five luxury private villas plus a jungle villa where they focus on luxury yoga retreats for small intimate groups.
Healthy fun adventure awaits!
This is a boutique hotel and has massage and spa services available.  You can find a list of activities and spa services available below.
Relax and enjoy some pampering at the Vista Celestial Spa which offers the following services for guests.
60 Minute Aromatherapy Massage
60 Minute Biosfera Organics Facial
90 Minute Deluxe Ayurveda-based Instantly Gorgeous Facial
30 Minute Mini Facial
Spa Manicure or Spa Pedicure
Natural body scrub/wrap/with 30-minute massage
Private Yoga Session (1 hour)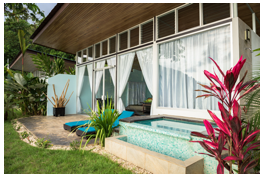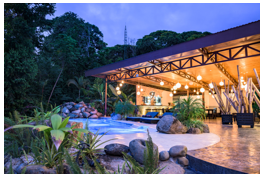 ADVENTURE ACTIVITIES
ATV/Quad Tour
Description: An action-packed tour across the mountains of Uvita spanning gorgeous scenery and a visit to a local waterfall.  
Price: $120/pp – individual ATVs | $230 – 2 person side by side | $380 – 4 person ATV 
White Water Rafting. $113 / pp. All day
Description: Costa Rica is a world-class white water rafting destination. This exciting tour is packed with rapids appropriate for both beginners and advanced rafters and will immerse you in nature and beautiful rain forest rivers.  Conditions are best during the green season, May through November. 
Horseback Riding – $50 – $60 / pp. 2-3 hours. 
Description: Choose between a sunset ride along Playa Hermosa beach ($60 / pp) or a horseback tour to a jungle waterfall on a local finca ($55 / pp). You will be led by an expert guide; no previous riding experience required. 
Zip Lining – Osa Canopy Tour – $70 / pp. 3 hours 
Description: Experience the thrill of swinging through the jungle on 8 zipline cables, from 200m up to 1.1km long. You will also have access to 11 rainforest platforms, 2 rappelling stations, 2 suspension bridges, and an amazing tarzan swing for the truly adventurous! The Osa Canopy tour gives you a breathtaking bird's eye view of the spectacular southern zone. You will experience an 800-acre private reserve that includes primary and secondary rainforest and rich wildlife. 
Zip Lining Canopy Tour at Hacienda Baru – $52 / pp. 3 hours. 
Description: Close to Vista Celestial, this tour is a canopy adventure as well as an ecological learning experience. A great way to see and learn about the tropical rainforest and have an adventure at the same time! This tour is appropriate for family members of all ages, including children as young as three. 
Waterfall Rappelling / Canyoneering – $100 / pp. 3 hours 
Description: Visit Mother Nature's water park! This tour begins with an introduction to the equipment and in-depth instruction on the fundamentals and proper techniques of rappelling.  You will rappel several waterfalls ranging from 7 meters (21 feet) to 27 meters (80 feet).  The canyon ends at the Uvita River where you will find pristine swimming holes for jumping, sliding, and swimming or relaxing and reflecting.  Enjoy a Pura Vida picnic (fruit, water, cookies, chocolate) before returning to tour base camp. 
Tandem Paragliding – $120 / pp. 3 hours (20 minutes flying time)
Description: Soar over the coast and jungle with a professional pilot.  Enjoy spectacular views from the mountain take-off point, then gently fly with the birds as you take in breathtaking scenery from the air for a 20-minute flight.  Available From December to April.
Horseback Tour to Nauyaca Waterfall – $80 / pp. 3 hours 
Description: This tour begins in our office, then continues by car to the parking lot where the horses will be, 30 minutes later you will arrive at the ranches where you can enjoy a delicious snack and also observe the white-faced monkeys, peacocks, guatusas and other animals that are found in the vicinity. We continue the tour on horseback for 20 more minutes until we reach the Nauyaca Falls where you can swim and enjoy the spectacular view of 2 beautiful waterfalls for approximately 2 hours. Upon returning, we stop again at the ranches to enjoy a delicious typical Costa Rican lunch and a good coffee from the Pérez Zeledón area. After lunch we return to the parking lot and we will have finished an unforgettable adventure. 
Self-Guided Hike to waterfall from our property – Free – 30 minutes each way 
Description: Follow the Vista Celestial trail signs through the rainforest to a secluded waterfall and swimming hole. 
Self-Guided Hike to beautiful swimming hole below a waterfall – Free – 2.5 hours each way 
OCEAN / WATER ACTIVITIES
Surfing Lessons – Group Rate $65/pp – 2 person minimum | $80/pp Private Lesson. 2-3 hours.
Description: Learn to surf on Costa Rica's world class waves.  Your instructor will teach you the fundamentals of surfing, or help you perfect your technique, and find the perfect local waves for your experience level. There is nothing like the thrill of catching a wave! 
Ocean Kayaking / Standup Paddleboarding (SUP) – $85 / pp. 3 hours (timing depends on tides)
Description: Kayak along the iconic Whale's Tail to one of Costa Rica's most beautiful ocean reefs.  You will be surrounded by magnificent views of the mountains and coast.  Once you reach the reef you will have a chance to snorkel and explore the vibrant underwater life in this special place. 
Mangrove Kayaking / Standup Paddleboarding (SUP) – $75 / pp. 3 hours (timing depends on tides) 
Description: Explore a mangrove forest protected by the Ballena Marine Park. There is no better way to experience this unique habitat and the wildlife that inhabits it.  As you paddle in the tranquil waters of the channel you will learn about the importance of the mangrove ecosystem and about the species that live there. If time allows, the guide will take you for a short walk in the trails that surround the mangrove forest.
Snorkeling Tour Cano Island – $140 / pp. Full day.
Description: Costa Rica's best snorkeling.  Cano Island is an amazing marine biological reserve located at 53 km from the shore with virgin blue waters making it the perfect tropical paradise for snorkelers and divers. You will see a spectacular variety of stunning marine flora and fauna and Costa Rica's largest concentration of coral-building organisms along the Pacific Ocean. With fantastic underwater visibility, you will be able to observe and swim alongside sea turtles, stingrays, manta rays, moray eels, barracudas, tuna, snapper, parrot fish, puffers, and more. Morning coffee, snacks, and lunch included. 
Rio Sierpe Mangrove Eco Tour – $75 / pp. 3 hours 
Description: Travel by boat through protected tributaries and mangroves teeming with abundant wildlife.  Your guide will explore with you to find three different species of monkeys; birds including Macaws, Herons, Egrets, Caracaras, Kingfishers, Hawks; the slow-moving sloth; crocodiles; caimans; snakes; turtles; and lizards.  Water, fruit, and soda refreshments included.  Note that it requires a one hour drive each way to reach this tour takeoff point.
Marino Ballena National Park Combo Tour – Whale & Dolphin Watching, Snorkeling, Local Beaches & Caves – $75 / pp. 4 hours 
Description: The best way to explore Marino Ballena National Park from the water! You will search for majestic Humpback Whales (prime whale watching is July through October and Late December through late February) and will see other marine wildlife including Pacific spotted dolphins, bottlenose dolphins , seabirds (pelicans, frigate birds, brown boobies and more) , and sea turtles.  Snorkel or swim and observe turtles, bi-color parrot fish, Angel fish, puffer fish and much more.  This boat tour will take you by the incredible natural formation of the whale's tail and Ventanas beach to see and learn about the marine caves that were carved by the ocean. Depending on the ocean tides, you will stop at either Ventanas or Arco beach to enjoy a refreshment of fresh fruits. Incredible coastal views throughout the tour. 
Scuba Diving – $100 / pp (half day) or $170 / pp (full day)
Ocean Fishing Private Boat Charter 
Description: Our region of Costa Rica near the Osa Peninsula offers some of the best blue water fishing anywhere. Just 30 miles north of the Panama border, the Osa Peninsula's location between the Pacific Ocean and the Gulfo Dulce of Golfito makes it one of the most nutrient rich coasts, offering anglers some of Costa Rica's best sport fishing.  All equipment, snacks, beverages, and lunch provided. To catch: mackerel, wahoo, mahi-mahi, yellowfin tuna, black tuna and snapper. 
Price: Half day (6 hours) and full day options available. Price varies depending on season.  Please inquire with us directly for pricing for your dates
CULTURAL EXPERIENCES & NATIONAL PARKS
Tico Tour: Local, Family-Owned Coffee / Banana Plantation Tour. $75 / pp. 5-6 hours.  
Description: Experience local life and the rich agricultural activity in Costa Rica.  On this tour you will see a small family farm at work and local life in the Costa Rican mountains.  If hiking, you will depart directly from Vista Celestial and hike 1.5 hours to a beautiful valley where you will reach the farm.  You will see all steps of the coffee growth, harvest, and processing life cycle.  Enjoy lunch with a local family.  This is where all the coffee served at Vista Celestial is grown and roasted! A truly unique Costa Rican experience.
Chocolate Tour. $30 / pp. 3 hours. 
Description: Learn about traditional chocolate making from a local Costa Rican guide. You will experience the process hands on, from peeling the cacao to the final stages of grinding and heating. Your host will show you some cocoa plants in his garden. Includes chocolate sampling and a chocolate beverage.
Night Walk and Natural History Tour. $60 / pp. 2.5 hours
Description: Discover an entirely different natural world during this night walk. You will see the rainforest come to life in the darkness with amphibians, (frogs, toads, salamanders, caecilians), reptiles (snakes, lizards), birds, mammals (bats, coati, kinkajou) and invertebrates (crabs, spiders, scorpions).
Corcovado National Park Hiking Tour. $135 / pp. Full day
Description: National Geographic has called Parque Nacional Corcovado "the most biologically intense place on Earth in terms of biodiversity".  The park is home to half of Costa Rica's species.  On this tour, you will take a boat from Punta Uvita to the San Pedrillo Ranger Station in the Corcovado National Park. The tour includes two guided nature hikes to observe beautiful flora and fauna. Each hike takes around 2 hours. During the hikes you will be able to see many mammals such as spider, howler, and white-faced monkeys, sloths, coatis, raccoons, and tapirs as well as a great variety of birds, plants, and massive rainforest trees. After the first hike, you will be served a picnic lunch near the San Pedrillo ranger station.  
Manuel Antonio National Park. $70 / pp. Full day
Description: Manuel Antonio National Park is a must-visit for nature lovers.  On this private guided tour you'll explore with a naturalist guide who knows where and how to spot sloths, monkeys, toucans, iguanas, and much more. You will also enjoy the gorgeous beaches and walking paths within the park. Includes a delicious typical lunch at a local restaurant in Manuel Antonio National park.
Quetzal Spotting (Bird Watching) – $95 / pp. Full Day 
Description: Resplendent Quetzals are emerald jewels of the cloud forest. These incredible birds shimmer from one shade to another, blending almost magically with the wet green background of their constantly misty high altitude homes. This tour is a 2-hour drive from Vista Celestial, but worth the drive to see these spectacular birds.  Note that spotting the quetzals is not guaranteed; if you do not see them on your tour, you will still get to experience the high cloud forest and several other birds, insects, and animals.  This tour includes Breakfast and Lunch.  
"Yoga is not about touching your toes,  it is about what you learn on the way down."
Contact us today for a free consultation. Fill out the form below:
* Indicates required field



Mailing Address: P.O. Box 900292
Sandy, UT 84090
A Balanced Life © Copyright 2019 All rights reserved