VISTA CELESTIAL VILLAS: COSTA RICA RETREAT 2023
Home to our 2022 Costa Rica Retreat, Vista Celestial is located in Uvita, Costa Rica, 2.2 km up the mountain.  Immerse yourself in the stunning ocean views, cool evening breezes, and the vibrant sunsets that is tropical mountain location provides.  The drive from the hotel to the beach is roughly 4 miles, or 15 minutes.   A boutique hotel, Vista Celestial houses five luxury private villas plus a jungle villa. They focus on luxury yoga retreats for small intimate groups with a wide variety of activities to choose from.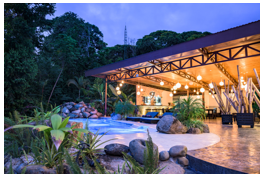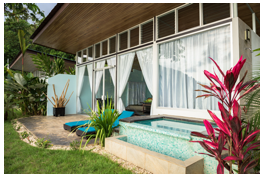 Vista Celestial consists of five private, luxury, one-bedroom villas.  Each villa is an extensive 1,000 square feet featuring a 180-degree view of both the ocean and jungle , private patios, and individual infinity hot/cold pools for four.  The interior villa space has 2 queen sized beds and a kitchenette / dining area with microwave and mini fridge.  Luxurious and spacious bathrooms contain oversized soaking tubs, a rainfall shower inside and outside, and stunning ocean views.  Each villa can accommodate up to two guests. 
Facility privately booked, no other guests besides our retreat.

Transportation to and from the San Jose International Airport

Seven nights luxury, ocean view villa accommodation (double occupancy)

Daily gourmet breakfast and dinner (Alcohol not included)

Once daily group transportation from the hotel to the local beach or town and back

Garden to table cooking demonstration with lunch and

one adventure activity included.

Full-service hotel experience

Luxury, boutique hotel quality service

Full kitchen preparing fresh meals made to order; food & beverage service available 16 hours a day 

Daily Housekeeping
Easy to get to, Vista Celestial is a short drive from the hotel to the beach, roughly 4 miles, or 15 minutes and a 3.5 hour drive from San Jose international airport  (Transportation to and from the airport is included. )
Hotel, Restaurant and Grounds
Surrounded by beautiful rain forests, Vista Celestial offers incredible ocean views from nearly every part of the property. Close to 15 acres of walking trails through the jungle are available for guests to enjoy, including a path to an exclusive waterfall.  Luscious gardens, with over 100 fruit trees, provide fruits for fresh juices, smoothies, and are part of the cuisine available for guests. 
Vista Celestial's main building features a restaurant and bar exclusive to guests.   A large infinity pool with waterfall jacuzzi and swim up bar provides both entertainment and relaxation at its finest.  The restaurant offers gourmet, locally sourced, tropical fusion cuisine and specializes in vegan and vegetarian dishes. 
A jungle yoga platform,small gift shop and zen lounge make Vista Celestial a unique place to get away.  Massage and muktiple spa services are offered in the privacy of your villa, or in the "Tree Of Life" jungle spa. Reliable, high speed internet is available for guests in both the villas and restaurant area.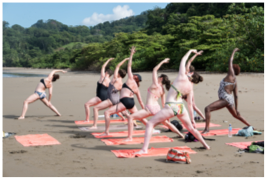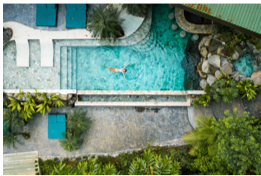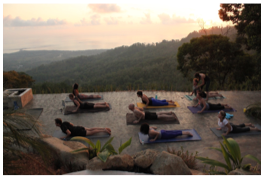 Yoga Practice Areas & Props
Vista Celestial has three ideal spaces for group yoga practice.  The jungle yoga platform immerses the yogis in the rainforest, surrounded by 100-foot high trees and the sounds, sites, and smells of the jungle.  The ocean view yoga deck at Vista Celestial overlooks the Pacific coast with expansive views of the iconic Whale's Tail and unparalleled sunsets.  For rainy days, the open air, but fully covered, restaurant area is available for the use of your private group, and features the same breathtaking views enjoyed on the deck below. 
Yoga props are provided for groups of up to 20 individuals, including Liforme mats, blocks, bolsters, straps, and blankets.  Staff will sanitize and set up / put away props before and after each class.
"I have been a seeker and I still am, but I stopped asking the books and the stars.  I started listening to the teaching of my soul."
Contact us today for a free consultation. Fill out the form below:
* Indicates required field



Mailing Address: P.O. Box 900292
Sandy, UT 84090
A Balanced Life © Copyright 2019 All rights reserved